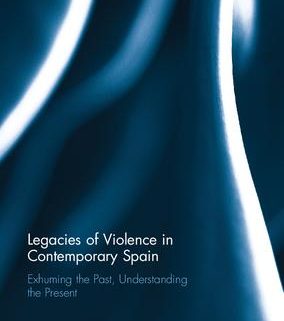 Publication Date
Title
Edited by
Type

 2017

Legacies of Violence in Contemporary Spain.
Exhuming the Past, Understanding the Present
Lisa Hilbink y Ofelia Ferrán
Libro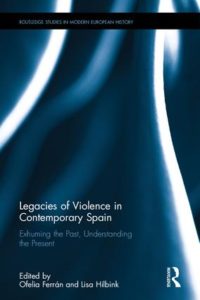 This book provides a comprehensive, interdisciplinary study of the multiple legacies of Francoist violence in contemporary Spain, with a special focus on the exhumations of mass graves from the Civil War and post-war era. The various contributions frame their study within a broader reflection on the nature, function and legacies of state-sanctioned violence in its many forms. Offering perspectives from fields as varied as history, political science, literary and cultural studies, forensic and cultural anthropology, international human rights law, sociology, and art, this volume explores the multifaceted nature of a society's reckoning with past violence. It speaks not only to those interested in contemporary Spain and Western Europe, but also to those studying issues of transitional and post-transitional justice in other national and regional contexts.
PODCAST:
Francisco Ferrándiz along with the publishers, Lisa Hilbink and Ofelia Ferrán, discusses the content of the book in the following podcast of University of Minnesota – Department of Spanish & Portuguese Studies
TABLE OF CONTENTS:
Prologue:Opening Graves to Restore Memory   [José Antonio Martín Pallín]
Acknowledgments
Introduction: Legacies of Violence in Contemporary Spain  [Ofelia Ferrán and Lisa Hilbink]
Part I: Mass Graves: "Unearthing" the Memories of Violence
1. Afterlives: A Social Autopsy of Mass Grave Exhumations in Spain [Francisco Ferrándiz] 
2. The Spanish Civil War Forensic Labyrinth [Luis Ríos and Francisco Etxeberria]
3. Executed Women, Assassinated Women: Gender Repression in the Spanish Civil War and the Violence of the Rebels  [Queralt Solé]
4. Beyond the Mass Grave: Producing and Remembering Landscapes of Violence in Francois Spain [Alfredo González-Ruibal]
Part II: Political, Legislative and Judicial Responses to Past Violence
5. Rude Awakening: Franco's Mass Graves and the Decomposition of the Spanish Transition Dream  [Ignacio Fernández de Mata]
6. Unsettling Bones, Unsettling Accounts: Spanish Perpetrators' Confessions to Violence [Paloma Aguilar and Leigh A. Payne
7. Knocking on the Spanish Parliamen]t's Door: The 2007 Law of Historical Memory and Its Aftermath [Rafael Escudero]
8. When You Wish Upon a Star: Baltasar Garzón and the Frustration of Legal Accountability for Franco-Era Crimes [Lisa Hilbink]
Part III: Cultural Representations of Violence
9. Poets of the Dead Society: The Cultural History of Francoist Mass Graves in the Pre-Democratic Poetic Archive [Germán Labrador Méndez] 
10. Pasts in Conflict: Stylized Realism and its Discontents in Historical Memory Film [Carmen Moreno-Nuño]
11. Regarding Past Violence [Ofelia Ferrán]
Part IV: Interview with Baltasar Garzón
Truth, Reparation and Justice: Interview with Baltasar Garzón, Then Magistrate of the National High Court of Spain, Conducted 26 April, 2011, Minneapolis, MN [Ofelia Ferrán and Lisa Hilbink]
Epilogue: Memory Walks, Justice Awakes [Emilio Silva]
https://politicasdelamemoria.org/wp-content/uploads/2016/11/9781138849952.jpg
425
284
Laura Langa
https://politicasdelamemoria.org/wp-content/uploads/2015/01/logo_memoria_Web.png
Laura Langa
2016-11-29 21:30:58
2016-12-10 18:16:33
Hilbink, Lisa y Ofelia Ferrán – editors- (2017) Legacies of Violence in Contemporary Spain Exhuming the Past, Understanding the Present