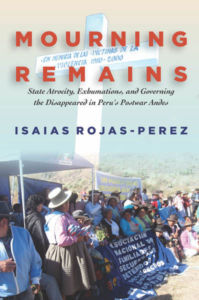 Description:
Mourning Remains examines the attempts to find, recover, and identify the bodies of Peruvians who were disappeared during the 1980s and 1990s counterinsurgency campaign in Peru's central southern Andes. Isaias Rojas-Perez explores the lives and political engagement of elderly Quechua mothers as they attempt to mourn and seek recognition for their kin.
Of the estimated 16,000 Peruvians disappeared during the conflict, only the bodies of 3,202 victims have been located, and only 1,833 identified. The rest remain unknown or unfound, scattered across the country and often shattered beyond recognition. Rojas-Perez examines how, in the face of the state's failure to account for their missing dead, the mothers rearrange senses of community, belonging, authority, and the human to bring the disappeared back into being through everyday practices of mourning and memorialization. Mourning Remains reveals how collective mourning becomes a political escape from the state's project of governing past death and how the dead can help secure the future of the body politic.
Isaias Rojas-Perez;
Associate Professor of Anthropology at Rutgers, The State University of New Jersey-Newark.
http://www.sup.org/books/title/?id=26585
https://politicasdelamemoria.org/wp-content/uploads/2018/06/pid_26585-199x300.jpg
300
199
F.
https://politicasdelamemoria.org/wp-content/uploads/2015/01/logo_memoria_Web.png
F.
2017-11-17 15:51:39
2018-06-15 16:00:31
ROJAS-PEREZ, Isaias (2017) Mourning Remains State Atrocity, Exhumations, and Governing the Disappeared in Peru's Postwar Andes