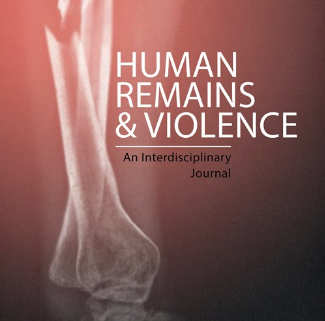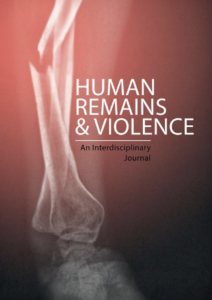 Human Remains and Violence: An interdisciplinary journal is a biannual, peer-reviewed publication which draws together the different strands of academic research on the dead body and the production of human remains en masse, whether in the context of mass violence, genocidal occurrences or environmental disasters. Inherently interdisciplinary, the journal publishes papers from a range of academic disciplines within the humanities, social sciences and natural sciences. Human Remains and Violence invites contributions from scholars working in a variety of fields and interdisciplinary research is especially welcome.
TABLE OF CONTENTS
Editorial
pp. 1-2(2)
Authors: Fournet, Caroline; Anstett, Élisabeth; Dreyfus, Jean-Marc
Articles:
Exposure: the ethics of making, sharing and displaying photographs of human remains
pp. 3-24(22)
Authors: Harries, John; Fibiger, Linda; Smith, Joan; Adler, Tal; Szöke, Anna
Pervasive death: Teresa Margolles and the space of the corpse
pp. 25-40(16)
Author: Bacal, Edward
Displaying dead bodies: bones and human biomatter post-genocide
pp. 41-55(15)
Author: Auchter, Jessica
Bone memory: the necrogeography of the Armenian Genocide in Dayr al-Zur, Syria
pp. 56-75(20)Author: Semerdjian, Elyse
Violence against and using the dead: Ethiopia's Dergue cases
pp. 76-92(17)
Author: Metekia, Tadesse Simie
Book Reviews
pp. 93-104(12)
https://politicasdelamemoria.org/wp-content/uploads/2018/06/human_remains_and_violence.png
460
325
F.
https://politicasdelamemoria.org/wp-content/uploads/2015/01/logo_memoria_Web.png
F.
2018-06-26 17:37:57
2018-06-26 17:37:57
Anstett, Élisabeth and Jean-Marc Dreyfus (2018) Human remains and violence. An interdisciplinary journal