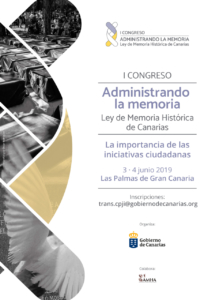 1st Congress
Managing Memory. Law of Historical Memory of the Canary Islands. The Importance of Citizen Initiatives
3 – 4 June 2019, Las Palmas de Gran Canaria
Organized by the Government of the Canary Islands in collaboration with the Association for the Historical Memory of Arucas.
With a heterogeneous and complete program, during the congress, historians, archaeologists, forensic doctors, anthropologists, specialists in historical memory, memory associations and government representatives in charge of managing historical memory will present their work and experience.
The plenary lecture will be given by Francisco Etxeberria, a forensic anthropologist from the University of the Basque Country and the Aranzadi Science Society.
Zahira Aragüete, Queralt Solé, Zoé de Kerangat, and Laura Martín-Chiappe will participate in the Congress in the debate: The Citizens' Movement for Historical Memory in Spain.
The appointment will be on June 3 and 4 in the Assembly Hall of the Multiple Use Building I of Las Palmas de Gran Canaria.
For more information
Full programme
https://politicasdelamemoria.org/wp-content/uploads/2019/05/CMHC_CARTEL_420x594-OK-difusion.jpg
1280
904
F.
https://politicasdelamemoria.org/wp-content/uploads/2015/01/logo_memoria_Web.png
F.
2019-05-31 18:21:30
2019-05-31 18:21:30
1st Congress Managing Memory. Law of Historical Memory of the Canary Islands.