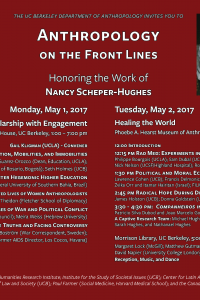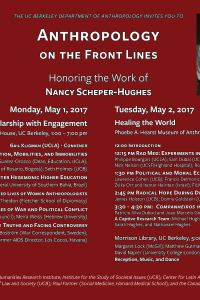 Del 1 al 2 de mayo el investigador Francisco Ferrándiz (CCHS, CSIC, ILLA) participará en la University of California, Berkeley (EEUU)  en el Homenaje a la Dra. Nancy Scheper-Hughes por toda su magnífica carrera profesional. 
Organizado por: UC Berkeley Anthropology Department
Además intervendrán:  
Marcelo Súarez-Orozco Dean Graduate School Education, UCLA
Margaret Lock Bronfman Professor Emerita Social Medicine, McGill University
Naomar Monteiro de Almeida-Filho President Federal University of Southern Bahia, Brazil
Juan Thomas Ordóñez Professor University Rosario Bogotá
Sherry B. Ortner Distinguished Professor UCLA
Kimberly Theidon Henry Lear Chair in International Humanitarian Studies Fletcher School of Diplomacy, Tufts University
Matthew Gutmann Director Brown University International Advanced Research Institutes
Francisco J. Ferrándiz Senior Faculty Spanish National Research Council
Kim Hopper Professor Sociomedical Sciences Columbia University
Calin Goina Professor Babes-Bolay University Cluj Romania
Donald Boström Swedish War Correspondent & Photographer
Dr. Jorge Perez Avila Former Director National AIDS Program Cuba
Meira Weiss Rose Chair Emerita Hebrew University Jerusalem
Philippe Bourgois Director Social Medicine and the Humanities UCLA
Gail Kligman Vice Provost International Institute UCLA
Donna Goldstein Professor University of Colorado Boulder
Misha Kline Assoc. Professor University of Oklahoma
Zvika Orr Faculty & Program Director Jerusalem College of Technology
Para consultar: Programa detallado.
https://politicasdelamemoria.org/wp-content/uploads/2017/04/Scheper-Hughes-11x17-03-03-17.png
300
200
Laura Langa
https://politicasdelamemoria.org/wp-content/uploads/2015/01/logo_memoria_Web.png
Laura Langa
2017-04-25 12:04:26
2017-04-25 12:16:41
1-2/05/2017 Francisco Ferrándiz en "Anthropology on the Front Lines: Honoring the Work of Nancy Schemer-Hughes"