SEMINAR UNIVERSIDAD DEL BARRIO – January 29 19:00
"Poetics of Resistance against oblivion and impunity. Stories of mothers whose children were killed by the Colombian army."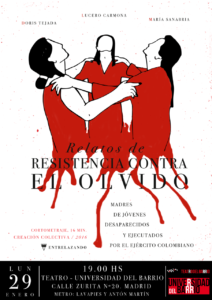 Since 2002 in Colombia, more than 6,800 cases of extrajudicial executions have been reported, crimes against humanity that today, despite the rhetoric of peace, remain unpunished. Based on the experience and the story of four mothers, Maria Sanabria, Doris Tejada, Luz Marina Bernal and Lucero Carmona, whose children were disappeared and executed by the Colombian army in 2008, we will talk about how to narrate violence and pain, about the processes of resistance and struggle, and the consequences of the State that murdered its children being the one who intends to repair them. Reflections on cruelty, forgetfulness, impunity and justice.
Coordination. Laura Langa 
Dynamics: Two creative projects will be presented as resistance actions. Two experiences of teaching the irreparable, examples of how to transform sadness and pain. A transformative commitment to undertake research and the role that the academy can and should play in these processes.
(1)  Reading fragments of the book "Poetics of resistance against impunity and oblivion". .. A publishing project in development, written by the mothers themselves.
(2) The screening of the short film "Relatos de resistencia contra el olvido" (16 min Colombia 2016. ENTRELAZANDO) ENTRELAZANDO), a collective creation based on the dreams that these mothers had at the time of the murder of their children.
https://politicasdelamemoria.org/wp-content/uploads/2017/07/AFICHE-RELATOS-DE-RESISTENCIA-UniBarrio-PNG-1.png
1280
905
Miram Saqqa
https://politicasdelamemoria.org/wp-content/uploads/2015/01/logo_memoria_Web.png
Miram Saqqa
2018-02-01 17:04:18
2018-02-06 15:41:04
Poetics of Resistance against oblivion and impunity. Stories of mothers whose children were killed by the Colombian army.